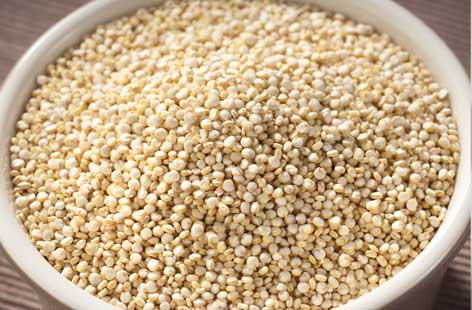 When I was at the grocery store the other day, I picked up a box of Quinoa. I had no idea what to do with it, but I'd been hearing so much about quinoa that I didn't hesitate to toss it in the shopping cart. Once I was back home and my groceries were unpacked, I realized I had some research to do because although I'd heard of quinoa, I'd never cooked it before. So, I fired up the laptop and was all ready to get started. I was surprised at what I discovered from these amazing little seeds.
Did you know that quinoa is nature's super food? It's fast-cooking, highly nutritious and protein packed. It contains a ton of fiber, is rich in magnesium and contains iron. It also helps to prevent heart disease by reducing high blood pressure and diabetes. It's also totally fool proof and it cooks in less than 15 minutes... Wow!
Now that I was armed with so much information, I headed to Pinterest where I found a recipe that looked interesting. I wasn't sure if I'd like it or not, but I did. My husband liked them so much, he actually ate 5 of them. Yeah, meaning no leftovers... thanks a lot, hubby. So, since they turned out so good, I'd like to share the recipe with everyone. I hope you enjoy them as much as we did.
Quinoa and kale patties
Ingredients:
2 1/2cups cooked quinoa
4 cups of kale
1/2 cup of chives
2 cloves of garlic
1 tsp. of sea salt
2 Tbs of olive oil
3/4 cups of bread crumbs
3 large eggs, beaten
1/2 cup of grated
Parmesan cheese
1/2 yellow onion
Directions:
Combine quinoa, eggs Parmesan, chives and salt in a medium mixing bowl.
Heat 2 Tbsp of olive oil in skillet on medium heat then cook onions and garlic approximately 3 minutes. Add kale to the skillet and cook until kale is bight green and soft.
Add kale mixture to quinoa mixture, then add bread crumbs and stir to combine. Place clean skillet on medium heat and add enough oil to coat bottom of pan.
Form patties using about 1/2 cup of quinoa mixture and place patties in skillet being careful not to overcrowd the pan.

Fry until golden brown on each side, approximately 5 minutes each side.
Remove patties, drain on paper towels and serve.